Hilma af Klint (1862–1944), a rediscovered Swedish pioneer of abstract art, the past de-
cade's unexpected shooting star of the art world, whose exhibition Paintings for the Future (2018–2019) in the Guggenheim Museum in New York attracted a record 600,000 viewers, will be introduced to art patrons in Olomouc, Czech Republic within the auspices of a special project.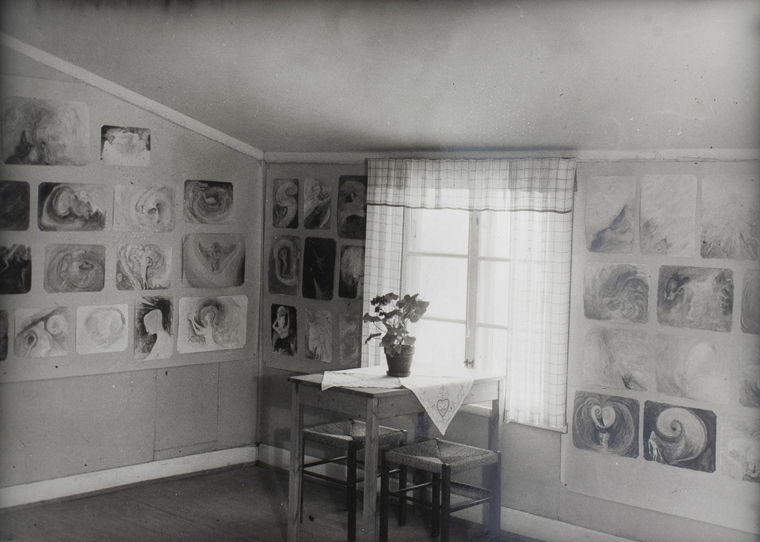 After the large – now world-famous – cycles of abstract paintings The Ten Largest and Paintings for the Temple, "dictated" by astral "guides and teachers" in a Spiritist manner between 1907–15, Hilma af Klint hitched her wagon onto that of a flesh-and-blood master, famed European occultist Rudolf Steiner (1861–1925) and his nascent anthroposophy. Although it might seem everything that could possibly be said about her work already has, there still remain many myths and much obscurity regarding her inclination to anthroposophy and the reasons why she desired to enter the core of the anthroposophy artists' colony in Dornach, Switzerland. Hilma af Klint, at that time influenced by the horrors of the Great War, began a new phase of intensive work on the bridge between science and art. Between 1919 and 1920 on Munsö island in Sweden, in the fashion of a clairvoyant she immersed herself into natural realms in an attempt to overcome the post-war vacuum and bring humanity – like a modern bodhisattva – closer to the wisdom and beauty of the esoteric langage des fleurs. The final phase of this work became her notebook Flowers, Mosses, and Lichens (1919–1920), in which she also explored insects, trees, songbirds, the four Evangelists, and themes of Scandinavian nationality.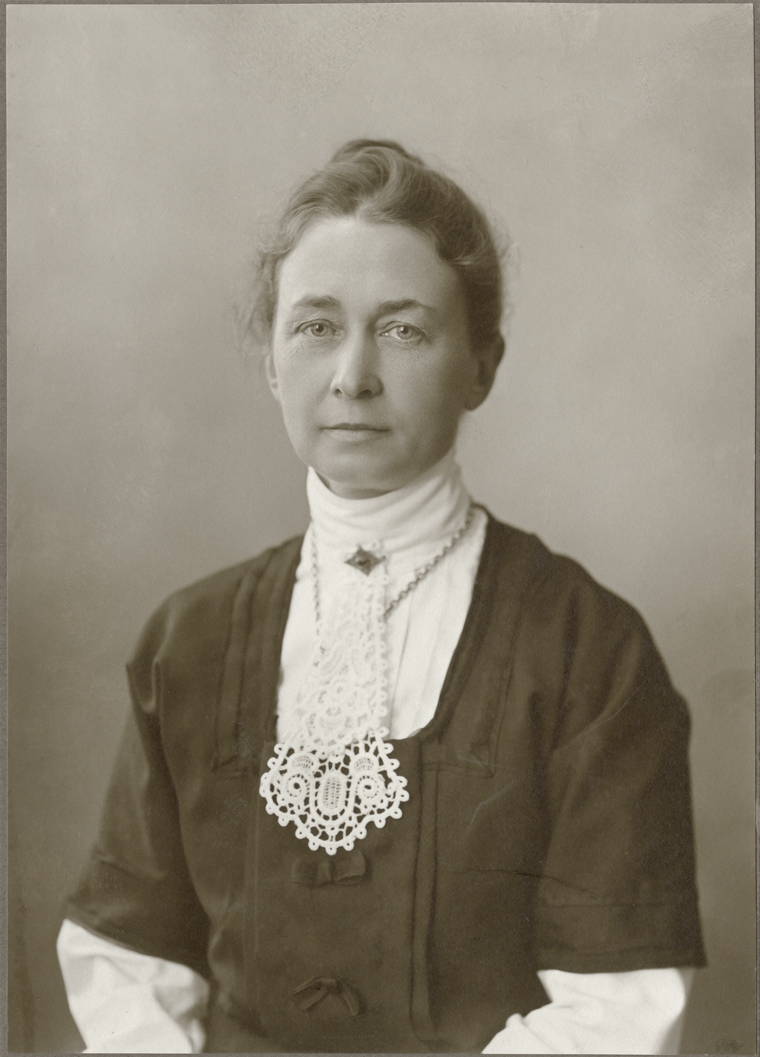 This avant-garde notebook, a work on the borderline between an occult herbarium and a contemplative calendar with hundreds of mantras and containing dozens of wondrous abstract images of painted plants and mineral pigments, arose from meditative work and was most likely intended for subsequent meditation. Today, it is her last work still housed in Dornach.
The original Dornach folio, today housed in an important collections in the USA, can be understood not only as another time capsule by the artist, uniquely made outside her native Sweden, but primarily as an attempt by the artist to open a way back to Paradise: "Melampyrum nemorosum: Do not forget the innocence of Paradise." (Hilma af Klint)
The exhibition in the private Rub Gallery Olomouc will present the Dornach notebook in a dreamlike environment evoking the Garden of Eden, courtesy of the Prague artist Mark Ther, spread out under a sail, a reference to the af Klint family's seafaring background. A publication accompanying the exhibition, planned for the exhibition closing, aspires to explore the Dornach legacy of Hilma af Klint in a critical and academic manner and in the context of the anthroposophical methods of getting to know Nature, while at the same time relating her work to other period "discoveries", e.g. in the poetry of the Czech Catholic mystic Jakub Deml (1861–1925), drawings by the Czech-Italian futurist Růžena Zátková (1885–1923), and last but not least, the poetry of Swiss Albert Steffen (1884–1963).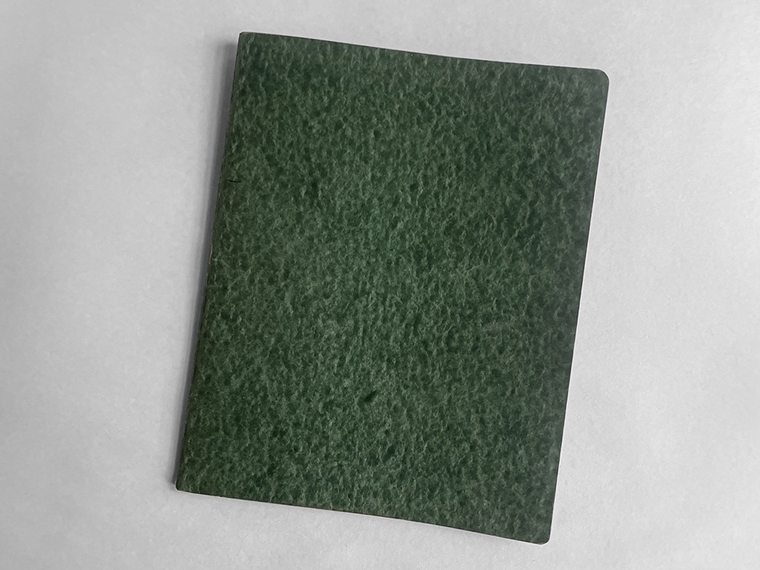 The Garden of Eden exhibition will also include a miniature salle de séance with a reconstruction of the floral altar of the De Fem group of women Spiritists, with anthroposophic furniture by Felix Kayser. The exhibition will be accompanied with piano recitals by Marek Keprt, playing works by esoteric avant-garde composers and a screening of the film Beyond the Visible – Hilma af Klint (2019).
Exhibition author and curator: David Voda, Rub Gallery Olomouc
Exhibits: Albert Steffen-Stiftung, Dornach a Rub Gallery Olomouc
Expert consultation: Anne Weise, Dornach
Consultant: Reinhold J. Fäth, Owingen
Exhibition architecture: Mark Ther, Praha
Installation: Zbyněk Hanečka, Olomouc
Translations: Matthew Sweney, Robert Hýsek, Radek Malý, Sabine Eschgfäller, Olomouc
Art prints: ing. Martin Navrátil, Olomouc
Catalogue sources: The Hilma af Klint Foundation / Moderna Museet, Stockholm
Graphic design: Jan Herynek, Olomouc
Photography: Zdeněk Sodoma, Olomouc
Musical programme: Marek Keprt, Olomouc
Film programme: Mind Jazz Pictures, Köln
Exhibited works:
Hilma af Klint (1862 Schloss Karlsberg in Solna – 1944 Stockholm)
Blumen, Moose und Flechten (Flowers, Mosses, and Lichens), 1919–1920
combined techniques, paper notebook, 220 × 175 mm
Albert Steffen-Stiftung, Switzerland
Rudolf Ritter von Reichl (Cronenberg 1881 – Hrubieszów 1915)
untitled, 1911
oil, canvas, 43,5 × 63 cm
Rub Gallery Olomouc
De Fem altar (replica), (1890–1900)
combined techniques, 100 × 50 × 40 cm
Rub Gallery Olomouc
Programme accompanying the exhibition:
April 12-13, Private preview & Press
April 14, Opening of the exhibition at Rub Gallery, 5 pm / Marek Keprt: Piano recital
(Obukhov, Crawford Seeger, Scriabin)
May 19, Marek Keprt: Piano recital from the works of Alexander Scriabin, 5 pm in Rub Gallery.
The event is being held in conjunction with OLOMOUC MUSEUM NIGHT / NATIONAL OPENING
in conjunction with the City of Olomouc
June 16, Film showing: Beyond the Visible – Hilma af Klint (2019)
in Rub Gallery, 5 pm
September 27, Lecture: "David Voda, Hilma af Klint: Garden of Eden",
Art History Department, Palacký University Faculty of Arts, 3–4.30 pm
October 6, Exhibition closing in Rub Gallery and presentation of the book Hilma af Klint,
Garden of Eden, 5 pm
Photogallery by Petr Palarčík.